The Cricut machine is a wonderful resource to create personalized cake and cupcake toppers. I used to try to write messages on cakes, but my handwriting was just awful and I would ruin my hard work from decorating the cake. You can use the Cricut to create toppers ranging from super elegant monograms for wedding cakes to cute names for kids' birthday cupcakes.
To make a cake topper, "weld" an interconnected phrase in Cricut Design Space. The Cricut will need to cut three copies of this design: two of posterboard, and one of glitter cardstock. Glue the layers together, allow the topper to dry underneath a heavy book, and glue to a skewer or lollipop stick.

Using Design Space can be intimidating at first, but it's a steep learning curve. Once you get used to all the tools available to you, I promise you will be inspired to decorate all your desserts like I do. I'm going to make a cake topper that fits on top of an 8 inch round cake below. I'll walk you through every step, including what materials you will need, and outline the process in a full video tutorial below.
---
How to design your cake topper in Design Space
In the video tutorial below, watch how I weld "Happy Birthday Nancy" for my cousin!
For reference, in this video I'm using:
the Cricut Explore Air (view the Cricut Explore Air 2 on cricut.com)
---
What materials will you need to make a cake topper?
To make my cake toppers super study, I use three layers of paper.

First, you will need standard weight poster board.
I typically use white, but any color you want is fine. I get mine in the cheapo 10 pack (see here on Amazon) and it lasts me almost all school year between all the craft things we do and school projects. I just cut them up into little squares or rectangles to fit on my Cricut mat.
You will also need some glitter card stock.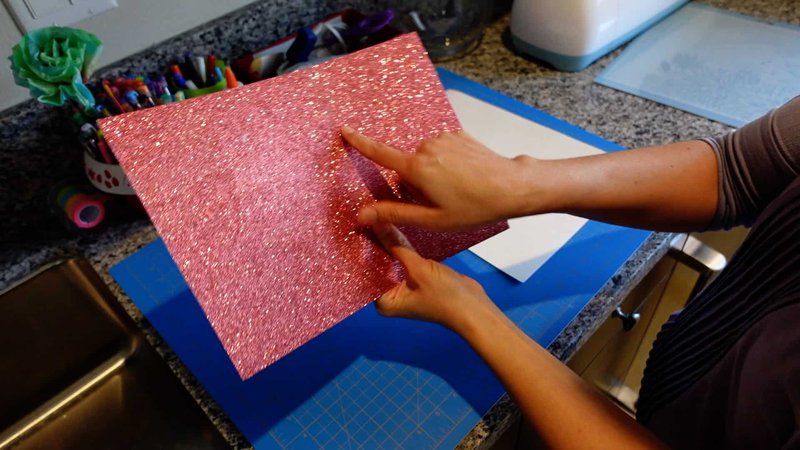 Look for a cardstock that is on the thicker side and doesn't shed glitter all over your desserts. I've had success with the Martha Stewart Glitter Paper (at Micheal's)
Those tend to be a little more pricey but they full 12x12 size (the size of you Cricut mats), are really pretty, and come in a wide variety of beautiful colors.
If you're not picky about color, I like this glitter cardstock from amazon that come in a huge pack. The downside here is that the paper is smaller (8.5x11") and although the colors are great, you won't get that perfect shade of turquoise if that's what you needed.
You will also need something to prop up your cake topper. Things that have worked well for me:
Skewers - if you don't mind the brown color, sometimes it matches a natural-esque looking cake.
Lollipop sticks - really great if you need to prop you cake topper up high because they are a clean white color. Just make sure to get the ones that are longer (at least six inches), because the short ones may not be able to hold up your topper. (See the 11" lollipop sticks on Amazon) You can always trim them.
You can get the ones that have cool designs on them to match your cake/topper! (See colorful lollipop sticks here on Amazon)
---
Additional Resources:
If you want to see how I made this Chiffon Cake, check out my Korean Bakery Chiffon Cake Recipe here.
If you would like to learn my technique for decorating with whipped cream and berries, I also have an little tutorial video:
Happy Baking 🌈